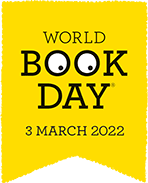 Changing lives through a love of books and shared reading.
Thursday 4th March is World Book Day. Did you know that reading for pleasure is the single biggest indicator of a child's future success, more than family circumstances, parents' educational background or income?  Therefore, this year, World Book Day is promoting Reading for Pleasure.
Even though we can't be together as a school we can still join in with World Book Day from our homes. Have a look at the ideas on the "Become a reading superhero this World Book Day" poster. It would great if you could carry out at least one of the suggested activities. Photograph yourself dressed up or the work you complete and send it to school via Class Dojo.
Log onto https://www.worldbookday.com/ideas/share-a-story/ on Thursday 4th March and go to the "families" tab for other book activities including Share a Story Live, World Book Day Author and Illustrator Academy, World Book Day Book Club and Share a Story Corner.
When we return to school on the 8th March everyone will receive a £1 book token that can be used in bookshops and supermarkets to put towards the purchase of a book.
Year 1 Reading Task
Please scroll to the bottom of the page for this week's reading task.
Expectations for Year 1.
At St John Fisher, we consider reading to be the most important subject for your child to learn.
Reading is the key that will unlock learning in all other subjects. To that end, it is recommended that your child reads to an adult regularly at home and listens to lots stories read by an adult.
What should my child read?
The most important thing is that your child enjoys reading so choose something that they will want to read. School books can be changed in the school reception but there is a great choice of online books and many of you will have lots of children's books at home. Children should be able to read 95% of the text independently and should be able to understand and talk about what they have read.
Changing your child's book
If the children were at school they would have their reading books changed twice a week. To ensure that there is continuity whilst school is closed, we would like your child to complete two books every week.  (Ideally I would like your child to read more regularly than this a this will improve your child's fluency and confidence).
Recording my child's reading during lockdown.
Please use your child's Reading Record  to record any time your child reads at home. It would be helpful if you could write the words Lockdown in a prominent position from the beginning of January when this lockdown began. To enable me to monitor your child's reading I would like you to take a photograph of the Reading Record and upload it to ClassDojo by the end of each week. I will create an Activity on ClassDojo for you do this.
Reading with your Year 1 Child – A parents guide.
Reading Detectives
Something that all good readers do is develop a range of skills that will help them understand the text they are reading. To help your child develop their reading skills, we encourage them to become Reading Detectives. Each skill can be practised when your child is reading to you or you are reading to your child. Try to focus on one skill each time you read. The bookmarks below are a brilliant guide to the Reading Detective skills.
Reading websites
Remember to write in your reading record every time you read at home so I can see how much great reading you've done!
Reading Activity
 The Camping Trip
"This is going to be fun!" said Mum, starting the car.
"I can't wait to climb trees and be outside!" shouted Sam from
the back seat.
"Being cold and getting dirty doesn't sound fun to me," said
Vashti.
Mum, Sam and Vashti were going on their first ever camping
trip.
When they got to the campsite, Sam and Mum tried to put up the
tent. The wind blew hard. Mum turned around to ask Vashti to
help and… the top sheet of the tent blew away!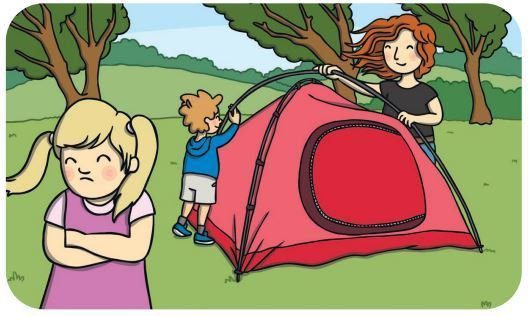 Questioning
Part of being a good reader is asking yourself questions about a text as you are reading it. I have thought of some questions about the camping trip that yuou can have a think about. Perhaps you can think of a question yourself. Remember though, the questions are to help you understand the text you are reading.
Why does Mum say "This is going to be fun!"? Is it because she knows that Vashti does not like camping or is it because she is just feeling excited?
Why is Sam shouting?
Why does Vishti say  "Being cold and getting dirty doesn't sound fun to me,"?
Why is it just Sam and Mum putting the tent up?