Missionary Discipleship 2020
The theme from Bishop Patrick this term is Missionary Discipleship and as a diocese we are going to try to complete a weekly Missionary Discipleship challenge/action.
Each Monday morning, there will be a Missionary Disciple challenge/action video in the '9.30 Club' live stream on the NDCYSLive YouTube channel.
This will give young people (and staff!) a simple action to do for us to be Missionary Disciples and bring the love of God to others in this challenging time.
What we want you to do is to have a go at the action and to take a photo or short video of you doing it and send it to us by Thursday each week. If you have permission to be on YouTube, we will send it to the diocese and it will hopefully be broadcast on the 'Friday Night Live' live stream at 6pm on the NDCYSLive YouTube channel.
The diocese are hoping this will be a powerful way of encouraging us to positively affect the lives of those around us and for us to be able to celebrate some good news as a Diocese each Friday.
THIS WEEK'S CHALLENGE - 26th May 2020
This week's challenge is to learn a new skill and get sponsored for charity!
Charities are finding things hard at the moment because lots of fundraising events have had to be cancelled. This week, you are being challenged to learn a new skill, or perhaps use an existing one, to get sponsored and raise money for your chosen charity. Send in your examples to tshannon@aquinas-cmat.org by Thursday to feature on the Friday Night Live show in YouTube.
Week 4 - Monday 18th May 2020
In this weeks challenge, you are being encouraged to be a Missionary Disciple by sharing a story with someone.
This could be by reading a Bible story or your favourite story and recording it for a loved one. It could mean that you read a story to some younger students in school or for a younger relative. Maybe you could even come up with your own story on a storyboard? Send any photos or videos to tshannon@aquinas-cmat.org to be featured in Friday Night Live!
Week 3 - Monday 11th May 2020
Episode 3 - This week's challenge has been set by Vicki Mullen, Acting Lead Lay Chaplain of the Our Lady of Lourdes CMAT
Send a letter or a drawing to your parish priest to cheer them up!
Please send in photos of your work or send them directly to your parish priest.
Week 2 - Monday 4th May 2020
This week's challenge has been set by Joe Hopkins, Lead Lay Chaplain of the St Ralph Sherwin CMAT.
The challenge this week is to get in touch with someone with a message of hope or just to have a chat and check they are ok, and then challenge them to do the same.
The message that is sent could be a poster made and held up outside a grandparents house, a text message, a letter a phone call or anything really.
However, if you wanted to send a text or WhatsApp, and it is on an iPhone, you can record it in the same way Joe has done. You can do this by going to settings - control centre and then adding 'screen recording' as an option!
Here is Joe's video:
Week 1 - Monday 27th April 2020
Tom Shannon, Lead Lay Chaplain for the St Thomas Aquinas Multi Academy Trust, has more details below!
Thanks to Charlie for sending in this picture of him baking a cake for his great grandad's 80th birthday.
He then video called him to sing Happy Birthday and show him the cakes...Great Job Charlie! Challenge complete!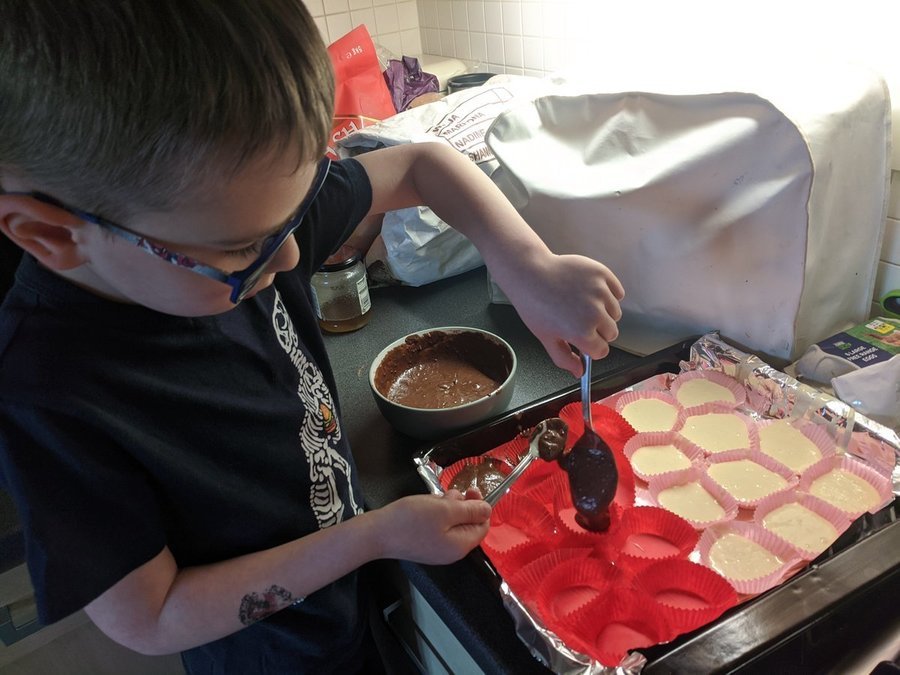 So the challenge for young people and staff is to make a favourite meal/bake a cake/make toast or even just a cup of tea for someone they miss right now and record a short video or a photo with a written message and send it to that person.
Please send your photos and videos to us here at SJF so we can share them on this page. Also if you'd like your photo or video to appear in the 'Friday Night Live' live stream at 6pm to the diocese let us know and we can send them on. Th
is will be on YouTube!
Finally, this Friday 1st May 2020 at 11am, there will be the 'Big Schools Get-together'. This will be a YouTube based quiz with activities and live guests. We are looking for teams from each school to sign up and join in, as well as families at home to sign in as a team representing their school too.